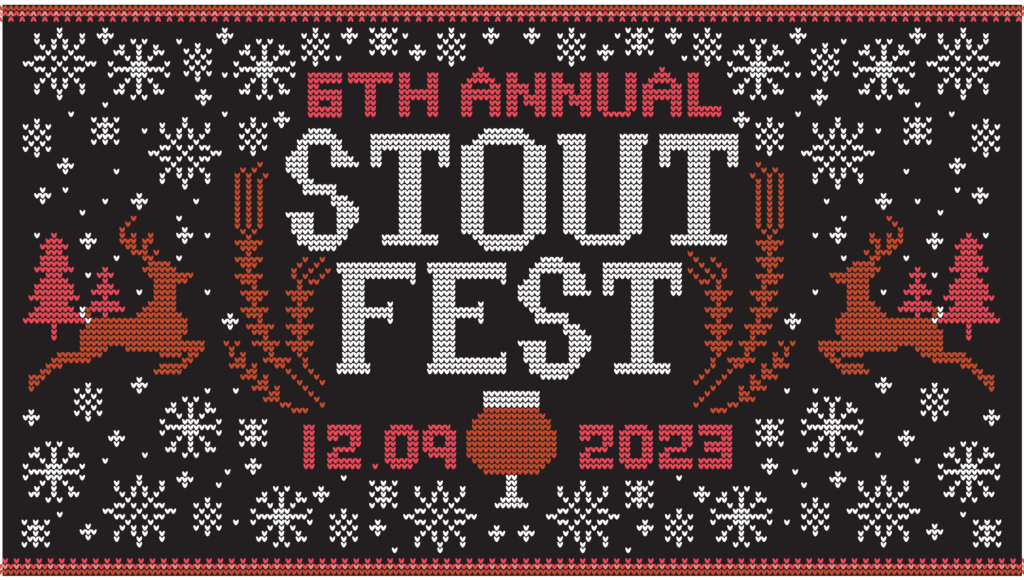 MobCraft Stout Fest
Stout Fest 2023 – December 9
Taproom open at 11am. The party kicks off at noon!
A Sweater Party For Your Insides
Bust out your ugliest sweater and join MobCraft Beer for a celebration of Stouts!
Celebrate Stout Fest at the MobCraft Milwaukee Taproom on Saturday, December 9. We will be releasing 2023 Padishah – our barrel-aged Imperial Stout + variants in addition to putting loads of Stouts and malty goodness on tap. Plus, enjoy games, contests and plenty of holiday cheers!
2023 Stout Fest schedule
Join us in celebration of our barrel-aged Imperial Stout, Padishah! Our limited Padishah variants will be released in the taproom. We will also be filling our tap lines with dark malty goodness!
There will be activities and contests throughout the day as well:
11:00am – Taproom opens! Padishah 4pks + all variants are released on a first come, first serve basis.
11:00am – Cafe Corazon will be on site putting together delicious beer + taco pairings. The pairing can be purchased between 11am-2pm or preorder here.
12 noon – Beer poking on the outdoor patio. Join us around the fires and get your Stout poked! What is beer poking exactly? A red hot metal poker is put into your beer for a few seconds. The beer head is caramelized brining out flavors of toasted marshmallow goodness. YUM! Beer poking is limited so make sure to get to the taproom by noon.
1:00pm – Stout Fest trivia on the brewery floor! Free for all festival attendees.
2:30pm – Mitten game! Unwrap present and perform seemingly easy tasks – all while wearing mittens. It's tougher than you think!
3:30pm – Ugly sweater contest! The crown jewel of Stout Fest (outside of beer of course). "Walk the runway" with your creative sweater or costume. Most cheers from the crowd wins!
4:30pm – Beer tasting trivia hosted by Elise! Think you know beer? Prove it! $5 to play and includes an 8oz pour.
6pm-11pm – Keep the party going in the taproom!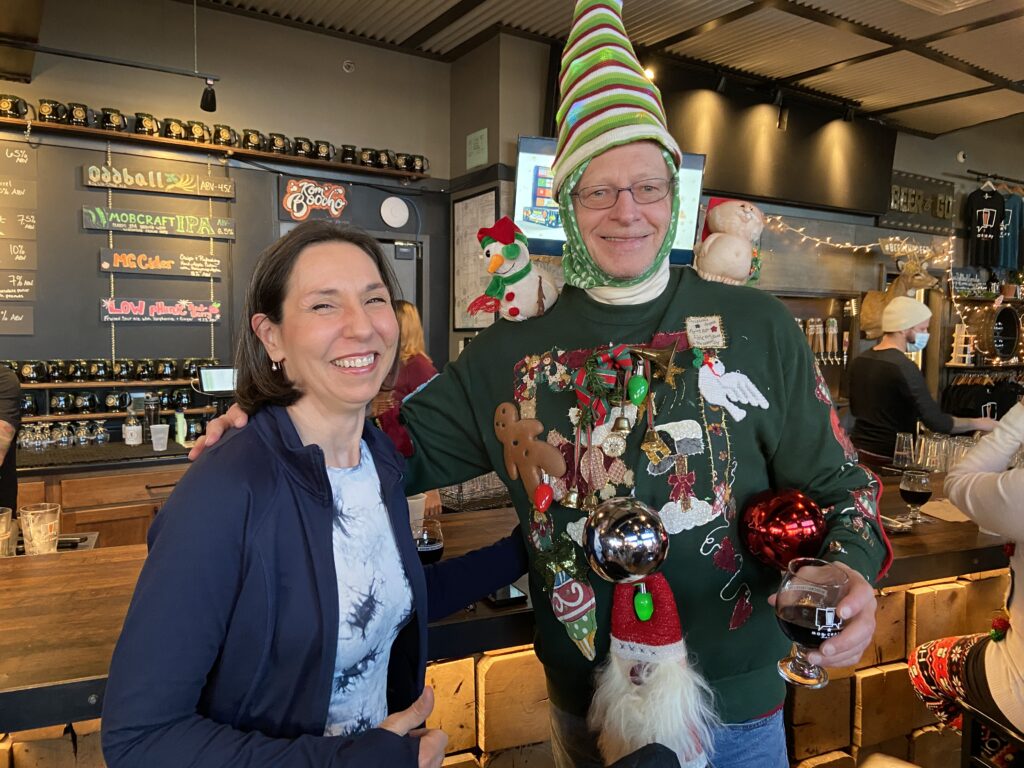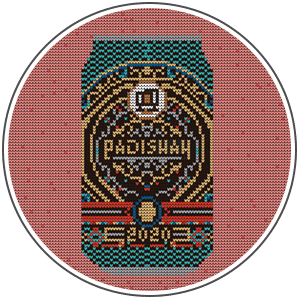 Roasty Toasty Beer Lineup At The Brewery
There are so many Stouts! We will be serving 25+ Stouts in the taproom.
Padishah 2023 & Variants
From these humble barrels, an empire was born. This Imperial Stout aged in bourbon barrels is the ruler of all palates. Its royal lineage boasts a rich and complex character fit for a king. All hail Padishah!
Padishah 2023: Imperial Stout aged in bourbon barrels. 11% ABV
Padishah 2023 Jim Beam: Imperial Stout aged in Jim Beam bourbon barrels. 11% ABV
Padishah 2023 Waterford Stillhouse: Imperial Stout aged in Waterford Stillhouse Bourbon barrels in collaboration with our friends at Waterford Stillhouse. 11% ABV
Padishah 2023 Great Lake Distillery Apple Brandy: Imperial Stout aged in Great Lakes Distillery apple brandy barrels. 11% ABV
Padishah 2023 EXXTRA: A very special Imperial Stout aged for TWO years in bourbon barrels. 11% ABV

PLUS we'll be tapping plenty vintages from years past that you don't want to miss! We will be digging deep into the cellar for this fest.
Dark, Malty & More!
9 Year Anniversary Stout – Bourbon barrel-aged Imperial Stout finished in a port wine barrel for 7 months. 11% ABV.
10 Year Anniversary Stout – A blend of a 12 year Elijah Craig barrel and a 5 year Evan Williams barrel featuring vanilla beans and coffee. 11% ABV.
Kringle Monster – O'so, MobCraft and Uncle Mike's Bake Shoppe present – Kringle Monster. Gorge yourself on a scrumptious pastry stout oozing with kringle and raspberry goodness! Om nom nom. 9.5% ABV.
Buzzy Nightcap Porter – Hot summer days have past, so cozy up inside with this horchata-inspired Porter. A creamy profile blends cocoa nibs, a mild coffee roast and a subtle bite of cinnamon. Grab this brew for a buzzy nightcap! 7.5% ABV.
Peanuttin' Butter Than This Chocolate Porter – A dark, chocolatey Porter with oodles of peanuts, this sweet and smooth peanut butter cup-style beer will easily satisfy that sweet tooth. Even your dentist can't resist it. 7% ABV.
Holiday CRUSH Chocolate Orange – Smoothie-style beer with lactose, orange, tangerine, and chocolate. 6% ABV.
Liquid Friendship – Chocolate lava cake inspired stout brewed in collaboration with Young Blood Beer Co. 8% ABV.
Brews Well With Others – Altbier with maple, vanilla, and cinnamon brewed in collaboration with Lady Justice Brewing Company. 5.7% ABV.
Vanilla Wafer Porter – Vanilla Wafer Porter is a vanilla porter swirling with chocolate malt notes that will leave you floating in bliss. Smooth vanilla melds perfectly for a porter that's outtasight! 7% ABV.
And many, many more!

Prefer to keep it light? Don't worry! A few draught lines will be dedicated to lighter / non stout beers.
The Patio will be open
Join us outside on our front patio to enjoy a safe and comfortable celebratory space. We will have burn barrels for heat, hammerschlagen for entertainment and for the first time we will be doing beer poking starting at noon.