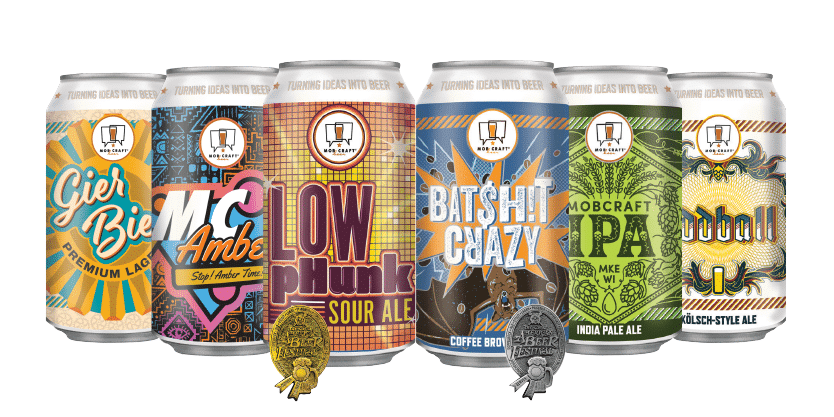 Check out some of our handy work
Year Round
Sour Ale conditioned with lactobacillus using a solera blending method: refreshingly tart with hints of lemon and Belgian esters. Allow your taste buds to boogie down with this pHunky pleasure.

Awards

Great American Beer Festival 2019 Gold – American-Style Sour Ale
World Beer Cup 2022 Gold Award – American-Style Sour Ale
Seasonals
Embracing the haze, we find ourselves in a prehistoric era dodging juicy hop meteorites as bitter dinos fight for survival. Hazy, juicy, citrusy – we raise a glass of this hazy IPA to honor these fallen creatures.
Crowdsourced Winners
Heads Up! I'm barrel aged. Estimated Release – Early 2024 – A Belgian-style mixed culture beer aged in bourbon barrels with blueberries.

Pre-order now

A twist on a previous Crowdsourced favorite, this beer is perfect for days out on the water – the best cooler companion! Brewed with juicy hops, pineapple, and mango.

Pre-order now
Limited Release
Sour blended with crushed grapes. A unique blend of sour tartness, wood, barley, grapes and time come together for a unique experience. Sour on the Vine pours a deep purple.
Sour and Wild Program
A Flanders-Style Red Ale aged in French and American oak. Displaying notes of cherries, dried fruit, and kilned malts.

A Belgian-Style Sour Ale aged in American and French oak with Brettanomyces and Lactobacillus.

Golden Ale blended from 10, 16 and 20 month barrels fermented with Saccharomyces and Brettanomyces, Lactobacillus and Pediococcus.
Find our beer
We are available at retail locations throughout the Midwest!