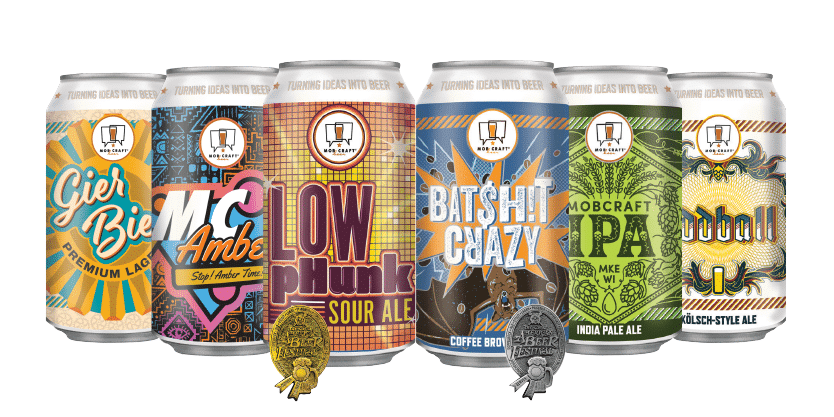 Check out some of our handy work
Year Round
Sour Ale conditioned with lactobacillus using a solera blending method: refreshingly tart with hints of lemon and Belgian esters. Allow your taste buds to boogie down with this pHunky pleasure.

Awards

Great American Beer Festival 2019 Gold – American-Style Sour Ale
World Beer Cup 2022 Gold Award – American-Style Sour Ale
Seasonals
This beer is inspired by the classic supper club dessert drink brewed with mint, vanilla beans, cacao nibs, lactose, and lots of chocolate malts. Eat your veggies! Only clean plates get dessert.
Crowdsourced Winners
Heads Up! I'm barrel aged. Estimated Release – Early 2023 – "Rejected" pays homage to a basketball star who can no longer be named – when the whistle was blown on the original name we felt "Rejected" was a fitting alternative. This Bourbon barrel aged stout is a slam dunk – aged in Frey Ranch and Boone County bourbon barrels then finished with Madagascar and Tahitian vanilla beans.

Pre-order now

Refreshing hoppy wheat beer featuring Citra hops brewed in collaboration and to support Hunger Task Force.

Hunger Task Force is 100% community-supported by local donors and 15k annual volunteers. Free & Local American Wheat will support Milwaukee's hungry, and delight craft beer fanatics with a passion for helping their community.

Pre-order now
Limited Release
From these humble barrels an empire was born. This Imperial Stout aged in Heaven Hill Bourbon Barrels is the ruler of all palates. Its royal lineage boasts a rich and complex character fit for a king. All hail Padishah!
Sour and Wild Program
Golden Ale blended from 10, 16 and 20 month barrels fermented with Saccharomyces and Brettanomyces, Lactobacillus and Pediococcus.

A Belgian-Style Sour Ale aged in American and French oak with Brettanomyces and Lactobacillus.

A Flanders-Style Red Ale aged in French and American oak. Displaying notes of cherries, dried fruit, and kilned malts.
Find our beer
We are available at retail locations throughout the Midwest!