MobCraft Beer Advent Calendar
THE PERFECT HOLIDAY GIFT FOR THE BEER LOVER ON YOUR LIST
Countdown to Christmas with this box full of holiday cheers! Each day in the MobCraft Beer Advent Calendar features a unique craft beer to help get you in the holiday spirit. This year's craft beer advent calendar features 8 limited release beers, 3 barrel-aged beers, 6 year round beers and 7 collaboration beers. That's 24 unique MobCraft beers to get you in the holiday spirit!
ORDER YOUR 2023 CRAFT BEER ADVENT CALENDAR!
order for Milwaukee, WI or Woodstock, IL pick up.
PLEASE NOTE: This product CAN'T be shipped. You must select a pickup location upon checkout.
Order and pick up your calendar now at our Milwaukee, WI taproom.
If you are picking up from our Woodstock, IL taproom you will receive an email in the near future with pick up instructions.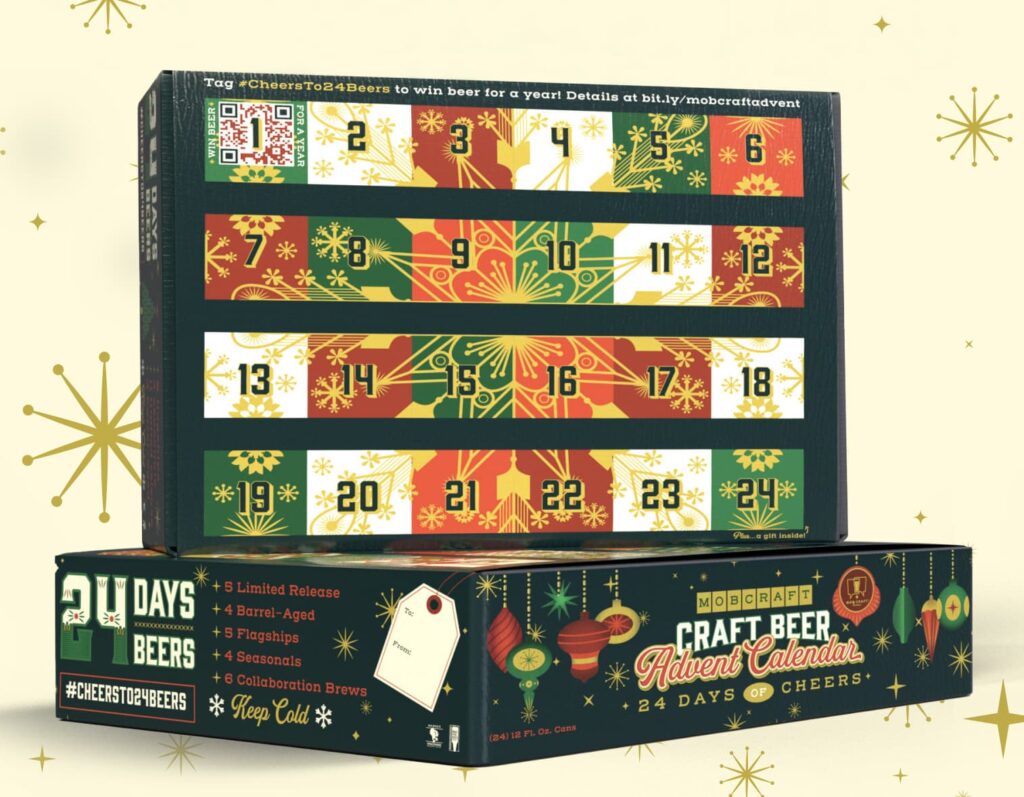 MobCraft teamed with fellow breweries and industry partners for beer collaborations, including :
Indeed Brewing Company (Milwaukee, WI & Minneapolis, MN)
Broken Bat Brewing Co. (Milwaukee, WI)
Los Morales Brewery (Milwaukee, WI)
Beechwood Sales and Service (Milwaukee, WI)
Lady Justice Brewing Company (Aurora, CO)
Young Blood Beer Co. (Madison, WI)
MORE Brewing Company (Villa Park, IL & Huntley, IL)
Supermoon Beer Compay (Milwaukee, WI)
Radix Fermentation (Milwaukee, WI)
****SPOILER ALERT****
Opening up the daily beer is a huge part of the fun of our Advent calendar! We strongly encourage not to spoil that fun by looking at the complete beer list.
However, if you would like a sneak peak at what is in the 2023 Advent box, CLICK HERE.
FIND AN ADVENT CALENDAR NEAR YOU!
The Advent calendars will be available at retailers in Wisconsin, Michigan, Illinois, Minnesota and Colorado with retailers expected to begin sales in mid-October.
We always recommend calling the retailer before you visit to make sure they have them in stock.
ENTER THE #CHEERS TO 24 BEERS 'BEER FOR A YEAR' SWEEPSTAKES
Enter to win beer for a year from MobCraft as you countdown to Christmas this holiday season with your MobCraft Beer Advent Calendar! Share each beer in the advent calendar on Instagram throughout the month of December to enter.
Here's how it works:
Open the corresponding day on your MobCraft Advent Calendar to reveal each day's beer.
Take a creative picture of each beer and post it to Instagram with the hashtag #Cheersto24Beers. All 24 beers in the advent calendar must be shared on Instagram on the correct day with the hashtag #Cheersto24Beers between December 1 – 24 to enter.
Enjoy your daily MobCraft beer! Repeat the next day.
One lucky winner that posts all 24 beers will be chosen to win beer for a year from MobCraft! We can't wait to see all of your wonderful beer pictures this holiday season! Good luck and Happy Holidays from MobCraft!